Posted by
Tom
on April 11, 2013 in
graphic design
,
Print
tagged with
artwork
,
batman
,
dark knight rises
,
design
,
film posters
,
Ink
,
les miserables
,
olly moss
,
print
,
rocky
,
superhero
,
toner
This week at TonerGiant, we're taking a look at the artwork of British graphic designer and artist Olly Moss, who is well known for his unique re-working of film posters and visuals. Regularly featured in Empire film magazine, his work is also chosen for international film events and commissioned by production companies such as Lucasfilm. On top of this, Olly Moss is responsible for the ground-breaking cover art of PlayStation 3's Resistance 3 game and the logo for Elijah Wood's horror production company 'The Woodshed'.
At just 26, it would seem Olly Moss is a young superstar, but many outside the design world are still unaware of both his name and his awe-inspiring block-colour designs, reminiscent of a time before 3D graphics and computer generated film posters ruled the world.
At TonerGiant, ink & toner are our bread and butter, which makes print and design something of a keen interest too, and we're excited to bring you this week's article profiling Olly Moss, you may even recognise some of his work!
Style – stripping off the fat.
Olly's style is very much back to basics, and I say that with the upmost respect and admiration for him, and you'll see what I mean when you see his work. Film posters these days are filled with HD photography, heavily edited imagery and digital effects. This is great, in fact it gives you a very visual insight to how the film will look, and you can get excited about it from the instance you glance at the poster. You know the kind; it shows your favourite action hero blowing up 57 bad guys with hand grenades, whilst jumping out of a burning building clutching the damsel in distress. But what about real posters, what about artist's impressions and symbolic imagery that makes you look a little deeper into the film's meaning? Well that's where Mr Moss comes in, he strips back the image-heavy themes, breaks away from the ultra-modern in-your-face advertising and brings you the raw details and bare necessities, and he does it brilliantly.
We're going to give you a peak at our three favourite film posters by Olly Moss…


The Dark Knight Rises.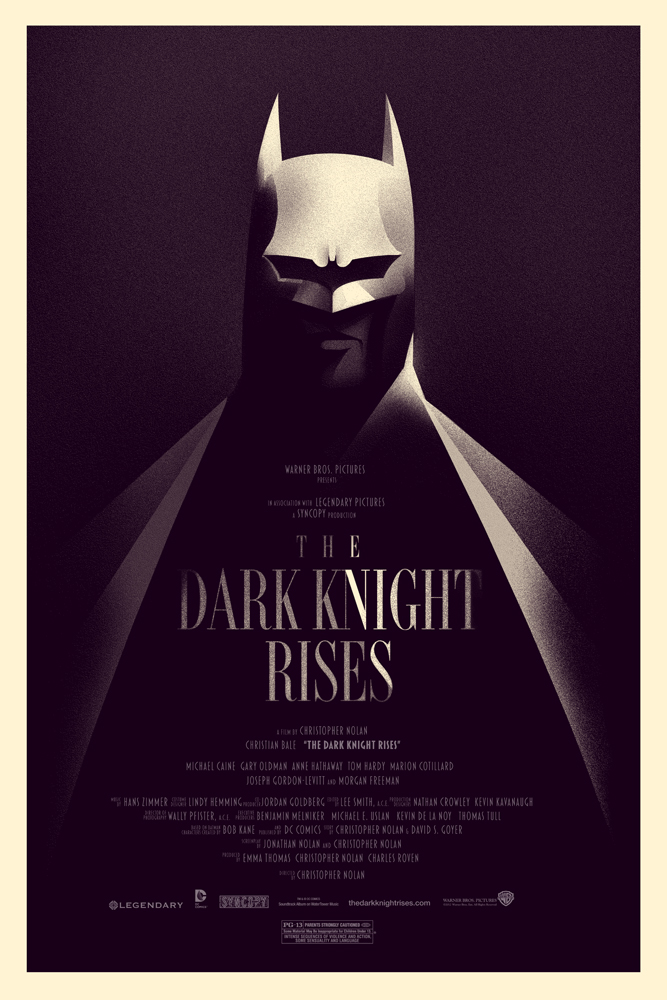 For last year's massive blockbuster, Moss decided to go with the classic 'film noir' comic book style. Stripped down to the basics, this subdued, dark design is timeless. You can see a lot of classic, symbolic imagery in this piece, it looks as though Batman could be a statue here, erected by a town as their saviour? Or maybe it's an iconic image of all the batman designs gone before, a kind of homage to the Dark Knight.
You really get the feeling here that Batman is an 'unknown figure', the empty space between the cape – where the film's title is written – makes it look as though it's a batman costume with nobody wearing it. No one knows who the Caped Crusader is, not even Olly Moss. When you compare this to the original, it's a very different feel. This is a brilliant poster design; we all want one for our wall here at TonerGiant!


Rocky.
Is this the promotional poster for the film 'Rocky', or an advertisement for a 1950's jazz café? Well it's the former, and here Moss puts his signature stamp on things by taking the boxing classic to new levels. The original may still be pretty simple, but Moss's version strips away any boxing gloves, images of Stallone or in fact, any directly obvious references to boxing whatsoever. However, the sheer recognisability of the imagery is instant. We know what this is, but why do we? Well, I'll tell you why!
The big, dark shadow at the bottom of the poster is pretty nondescript, until you look a bit further and then you see that this could either be Rocky doing his classic cheering pose, or an opponent boxer flattened out by knockout! Those steps aren't just there for good measure, those are the famous Philadelphia Museum of Art steps featured in the classic training scene. So as you can see, the things that make us think of the film, are much deeper than actual pictures of the actors or snapshots of scenes, Olly Moss really points that out to us and makes us realise the importance of symbols and hidden meanings.
The jazz-art element is also a nice touch, as it makes us think about frenzy of the training and fighting. We can see Rocky running away in this design, and with the original tagline 'His whole life was a million-to-one shot' it certainly creates a powerful image.


Les Miserables.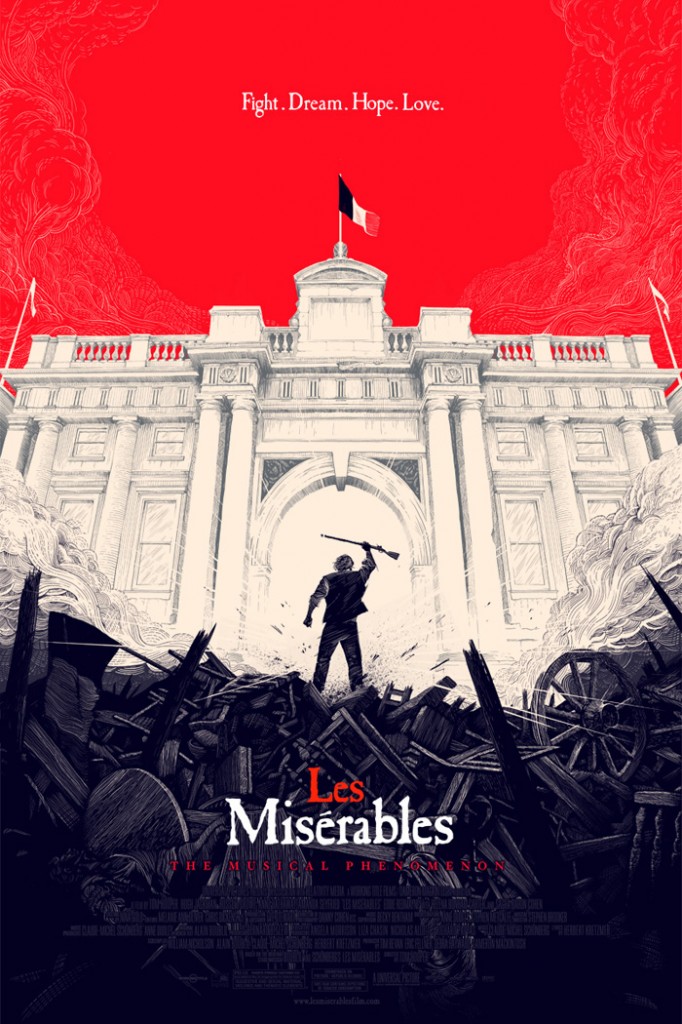 Moss' reworking of the Les Miserables artwork has taken on a sort of 'wartime propaganda' look. The three block colours almost form the French flag, and the powerful silhouette in the centre symbolises a whole nation of people fighting for what they want. This design is slightly more detailed when compared to Olly's other work, but still manages to retain much of his style. This shows Olly's strength as an artist who is willing to experiment, yet he still always retains a touch of character throughout his work.
It's such a bright piece in contrast to the original, and although keeping in line with the 'rubble and ruins' theme, it's almost a completely new design. It's refreshing to see your favourite films revamped and transformed, and this Les Mis poster is no exception!



An Inspiration.
Olly's work shows us that we can be playful with our designs, and not to be afraid with tackling big names and films. He's very accessible online, which is a great example to set for artists wanting an online presence, he also sells very limited editions of his artwork, so if you want one you generally have to act fast!
If you've been inspired by this artwork, or would like to talk about more stuff like this, feel free to talk to us on Twitter, Facebook or Google+!
Like this article? Share it with your friends!
Tiny URL for this post: http://tinyurl.com/nkxvprq