Posted by Stuart Deavall on October 18, 2012 in
General
,
Printers
,
Toner & Ink
tagged with
changes
,
tonergiant
Change is good….
It's a new dawn at TonerGiant and we love change….You should always question the way you do things, and we're no exception!
So we consistently listen to what you say, think about ways we can do things better, and make improvements so that ordering your cartridges is as simple as can be!
….and we've recently made some big improvements that will help you to find the best deal when looking for your cartridges on our website:
Product prices
We check our prices every day against our market place to offer you the best value but the price shouldn't be hard to find!….So we've changed the product pages to display clearer pricing and a larger add to basket button so it's easier to find!
Delivery
We know you love to get your order delivered as quickly as possible, and so we've changed our standard delivery options….now you get FREE super-fast Next day delivery on everything!
Plus we also show you when you'll receive your order! See an example here (hover over the text to activate)
The best ways to save
We all love the best deals don't we? But sometimes when we're shopping in a hurry, it's not easy to compare cartridge prices and work out how much you might save by purchasing a multi pack or alternative brand….So we've calculated the savings for you!
Multi pack savings – Now clearly displayed when you view all cartridges for your printer model…. See an example here

Alternative Brand – We now highlight how much you can save by switching to an alternative premium quality compatible cartridge, instead of buying the printer manufacturer brand….See an example here (hover over the text to activate)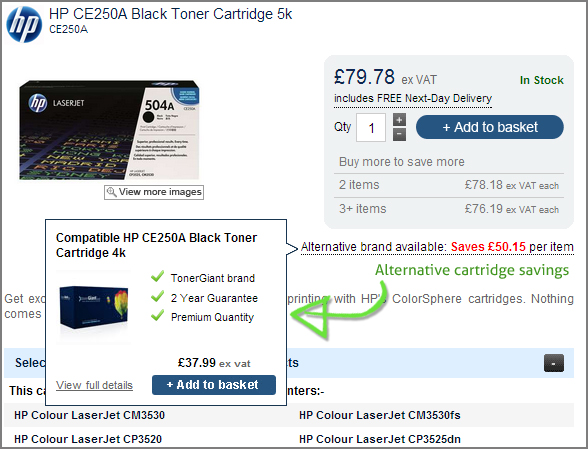 ….and that's not all, we have even more great changes coming soon! To see the above changes in action, click here to find your printer and place an order today!
Like this article? Share it with your friends!
Tiny URL for this post: http://tinyurl.com/93842j8